How do successful freelance fashion writers get consistent work at the top publications?
Hint: Writing is just 30% of the work!
Ready to see your name and articles published on the best fashion publications?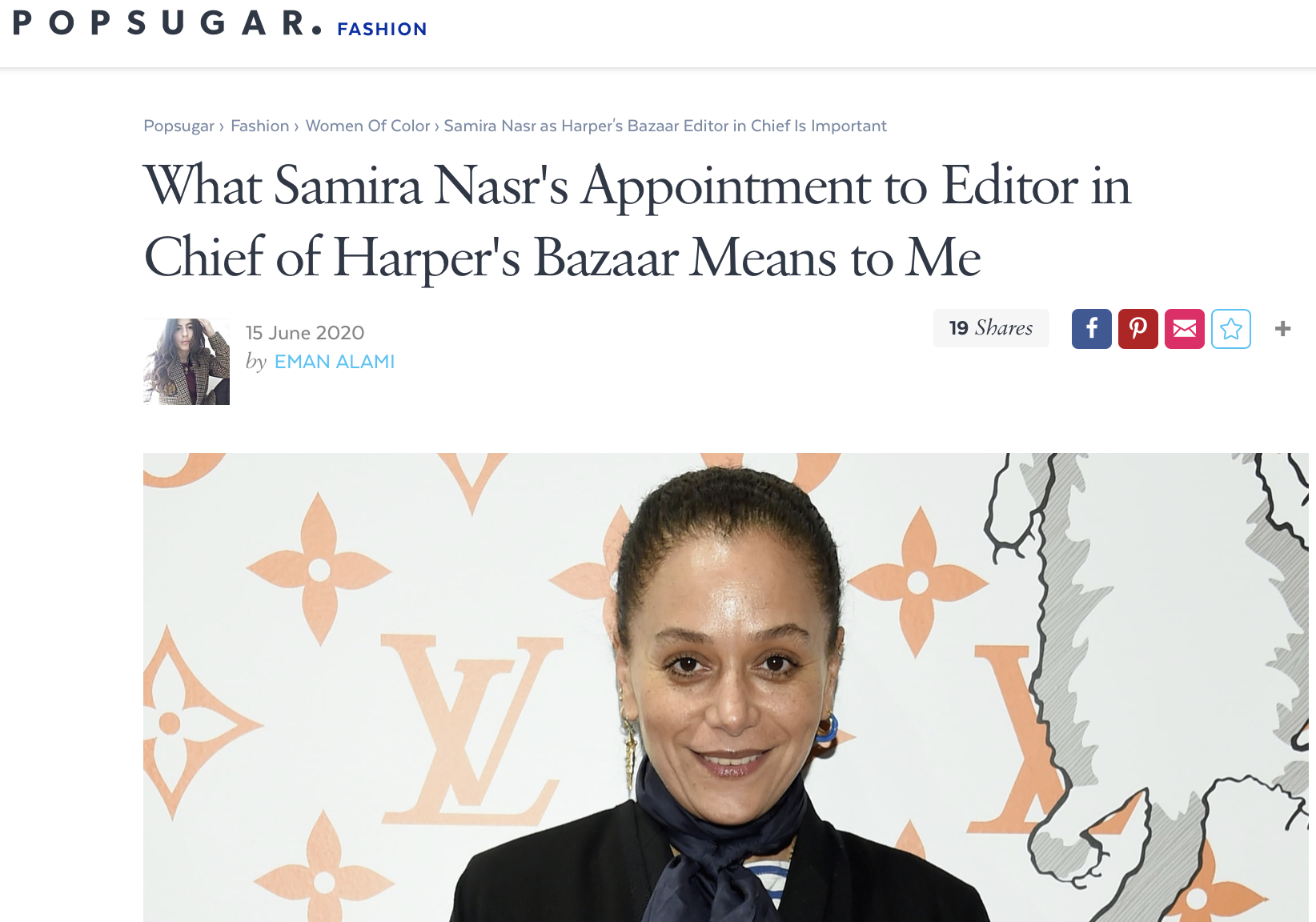 Eman Alami
, Student of The Freelance Fashion Writer Boss Course
published her first fashion article on Pop Sugar within 2 weeks!
"I found the course to be one of the most valuable online courses for my personal growth and career development. I love the class because it taught me how to make article pitches,grow my clientele and most importantly gain the confidence to get my work published in a fashion publication. This class made my childhood dream come true."
"
I took a fashion journalism course at a famous school,
but it was more focused on the writing part and I was missing the strategies to use that I needed to get the writing jobs.
In fact, despite the journalism course, I was still struggling to get a writing opportunity.
I'm so glad I've found your course!
Now I know exactly what I have to do to get my articles published!
"
Grace, Student of The Freelance Fashion Writer Boss Course from London
Aurore
, Student of The Freelance Fashion Writer Boss Course from France
"I finished the course in one day!
It was so interesting I couldn't stop.
Even if I had done a lot of research on the topic, there were many things I didn't know and that are very useful!
What I love the most is that it's very practical and
not theoretical.
I will rewatch and start applying these tips right away!"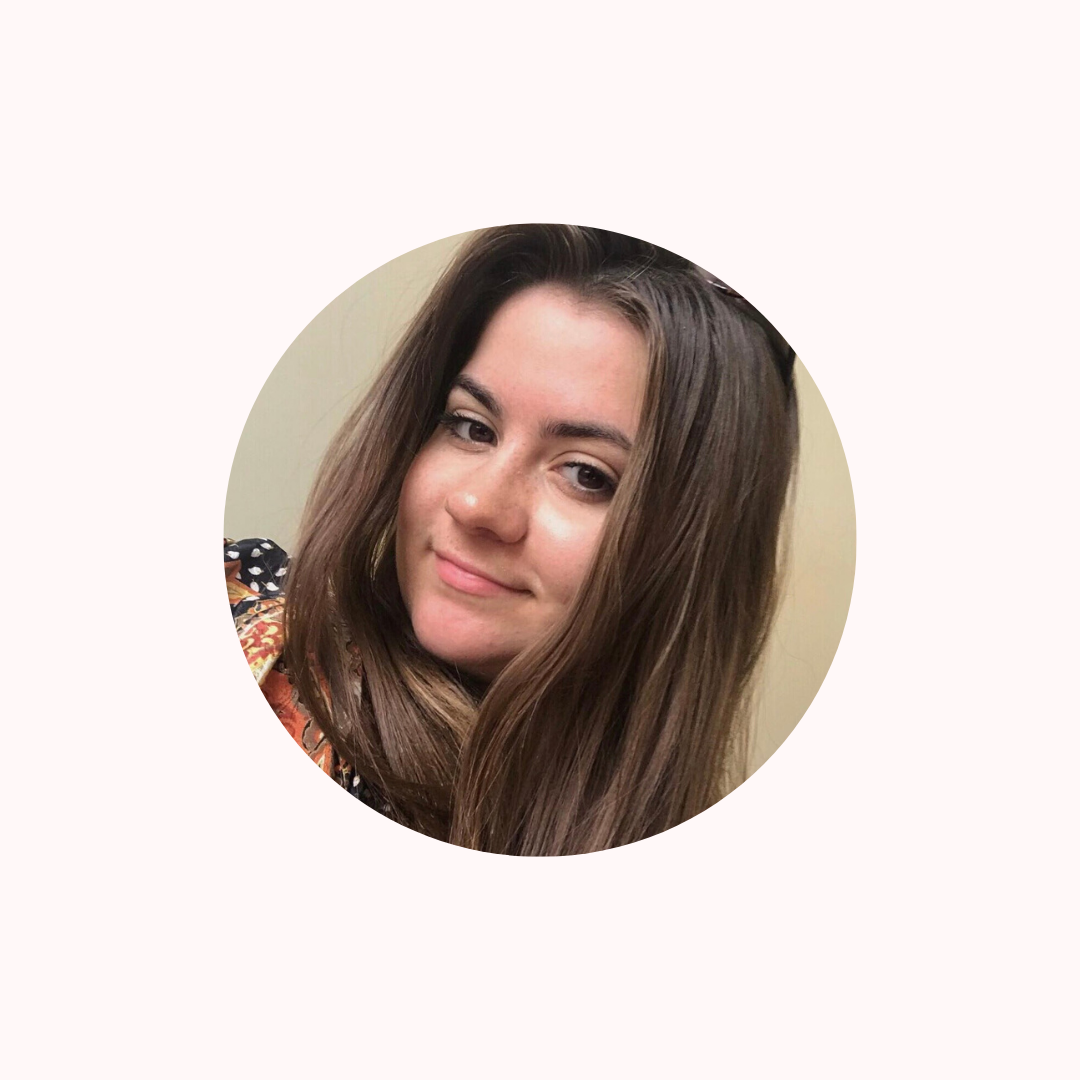 With this course you'll learn the practical things that really matter to start writing for your favorite fashion publications as a freelancer
Give me a couple of hours and I'll teach you:
✔️Everything you need to get started as a freelance fashion writer (or if you prefer to call yourself fashion journalist, or freelance fashion editor ;))
✔️How and where to find clients and publications to work with/write for
✔️How to write for fashion magazines even if you have zero experience and you've never published an article
✔️How to pitch publications and editors to get your articles published even if you've never pitched before!
✔️How to build your writing portfolio even if you have never published an article and what articles to include
✔️How to write killer sample articles to show to editors
✔️How to make sure the article your propose is the one the publication needs!
✔️ How to build your own fashion website
✔️How to find consistent work
✔️How to build relationships with fashion and beauty editors
✔️How to set your rates at the beginning💰 how to raise your income and how to get paid
✔️How to take it to the next level: ask and turn a single article published into a long-term collaboration (aka become a regular contributor for the fashion publication)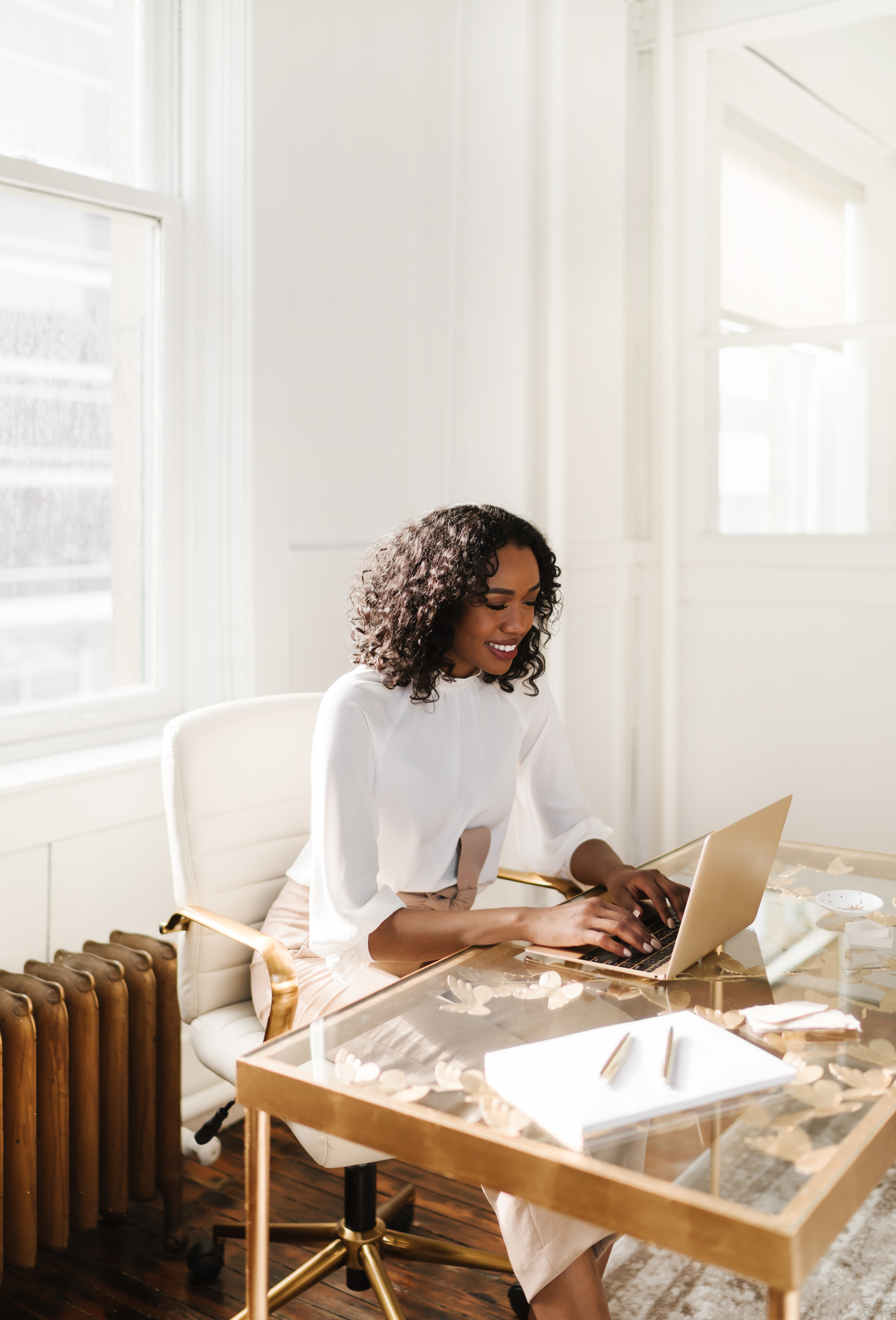 You are in the right place if:
-you want to turn your passion for fashion and writing into a successful full-time money-making career
-you want to get published in the top fashion publications
-you have already tried to pitch publications to get your articles published, but with no results and you want to know how to do it the right way
-you want to add another income stream and write on the side while having your 9-5
-you want the freedom of working at your own pace and decide who you want to work with and when
- you have decided to be your own boss and build your business
 - you want to work in fashion from anywhere in the world, from your home
-you want to make a stable income
Mónika
, Student of The Freelance Fashion Writer Boss Course


"The course is clear and straightforward. It inspires you to take action. Within a few days, I went from zero to having a proper online presence and I also started to pitch magazines. 
What is the best thing about this course? It works. A niche magazine has already assigned me an article and I am not even a week into the course.
I can confirm that Giada's strategies work!
I am beyond grateful."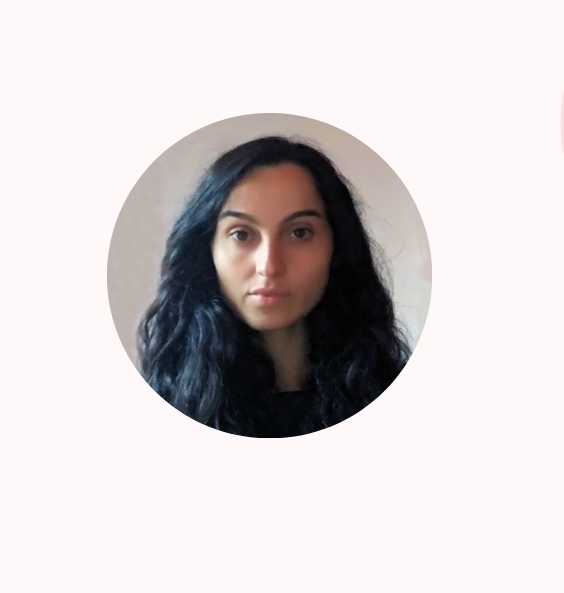 At the end of this course you'll have developed the most important skills you need to make money writing about fashion: 
✅Writing skills: it doesn't matter if you are just at the beginning of your career and you have never written before: a good article is a good article and every editor knows this. But an exceptional article is not the one that it's just perfectly written. There are many things you have to consider and analyze to prove that you can't only write amazing articles, but that you can do it for THAT publication!
You'll learn how to come up with the perfect sample articles and article ideas that publications want to publish!
✅Pitching skills. If you think you can make money as a freelance writer by just applying for jobs found online, you are wrong. You get the best and most profitable job opportunities through Pitching.You could be the best writer out there but if you don't learn how to pitch (pitching=contacting editors and publications proposing an article idea with the goal to get it published) no-one will ever publish your work. I'll teach you how to write the best pitch email 📩 and how to contact publications to make sure your work gets published💥
✅Marketing and business skills: Being a freelance fashion writer means being a business owner. As an entrepreneur myself I know a thing or two now about building a successful business that makes money. I'll teach everything about treating it like a business (and don't worry, you don't have to be a business person to do this, I'll teach you an easy step to become your own boss and build a profitable career/business) how to use Instagram and LinkedIn to get clients, how to build a fashion website to show your writing skills and more!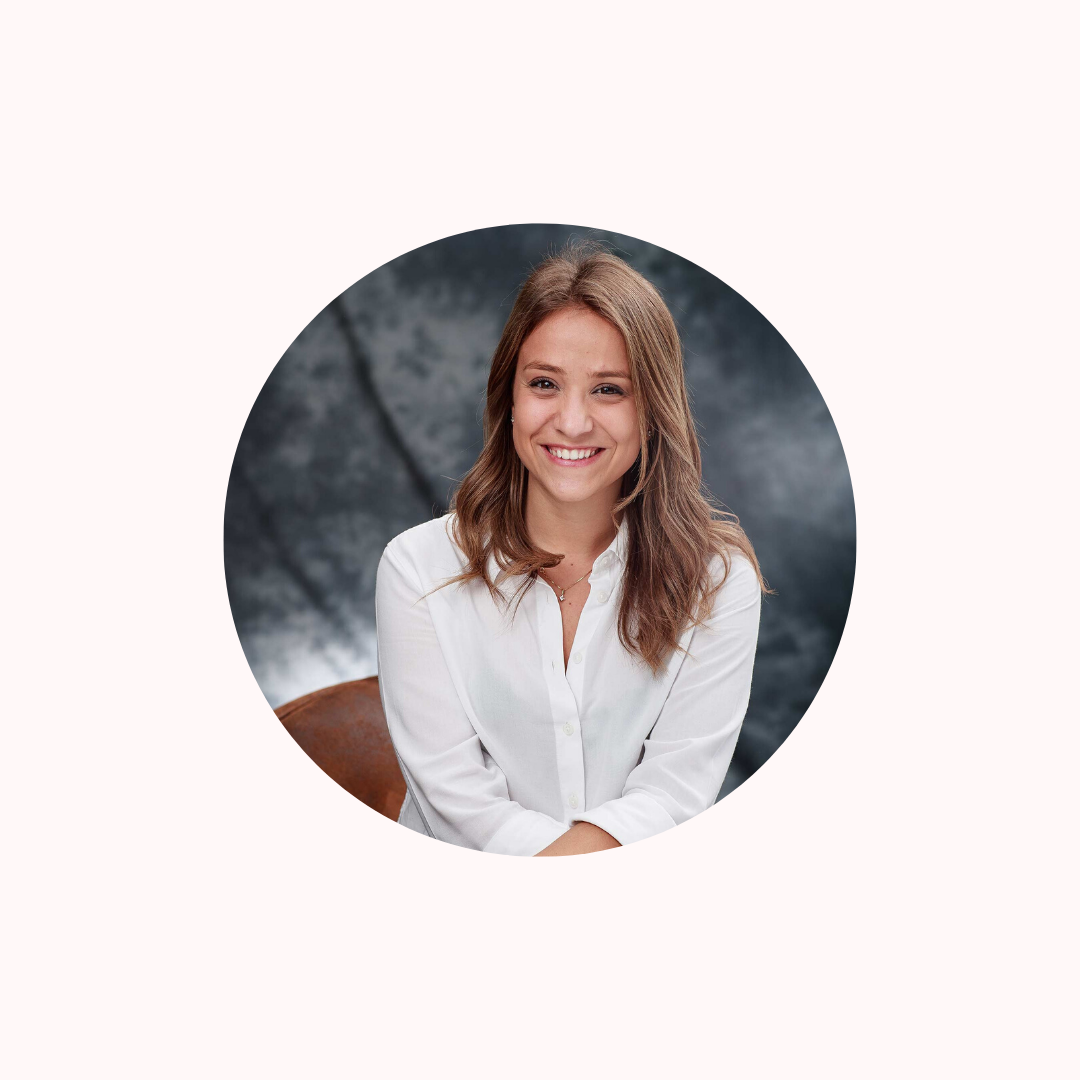 "Glam Observer is one of the rarest platforms that allows you to get practical help in researching and developing an international career in fashion"
Serena Castrignano, Vogue Italia Editor
This course is for:
-those who want to start a full-time freelance writing career
-those who want to write for fashion publications on the side
-those who want to be their own fashion boss and start a fashion business from home
-those who want to work in fashion remotely
-those who have ZERO experience and have never published an article
-those who have previously published some articles but want to take this career to the next level and bring on more clients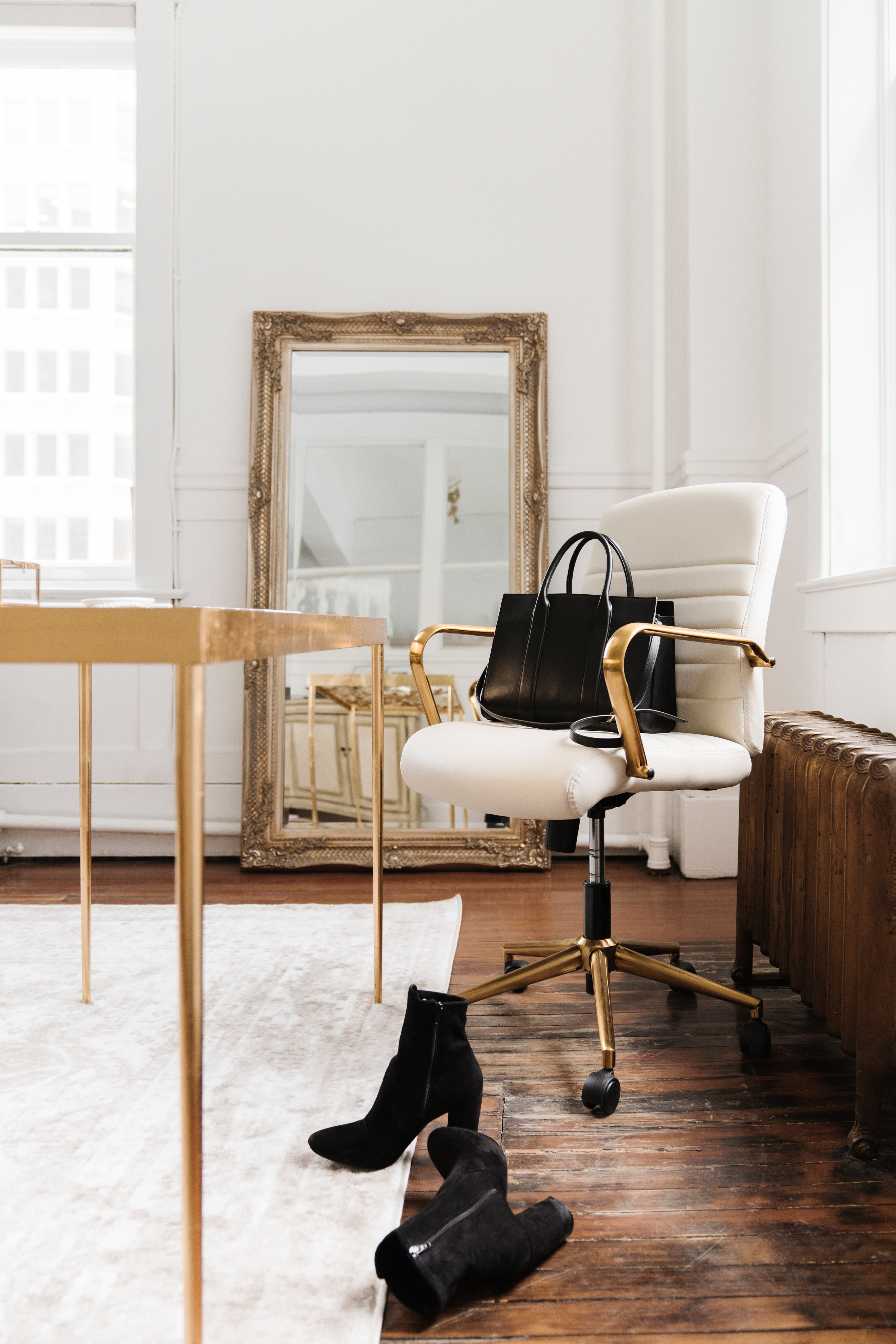 When you decide to become a freelance fashion writer, you are becoming your own boss!
Your writing is your product and editors are your customers.
✨✨✨If you learn how to handle the business part, you could be one of the freelance writers who make SIX-FIGURES PER YEAR! 💰💰💰
I'll make the business part super easy for you! Don't worry!
The course, made of: video lessons, sheets, resources, exercises, templates to download - includes: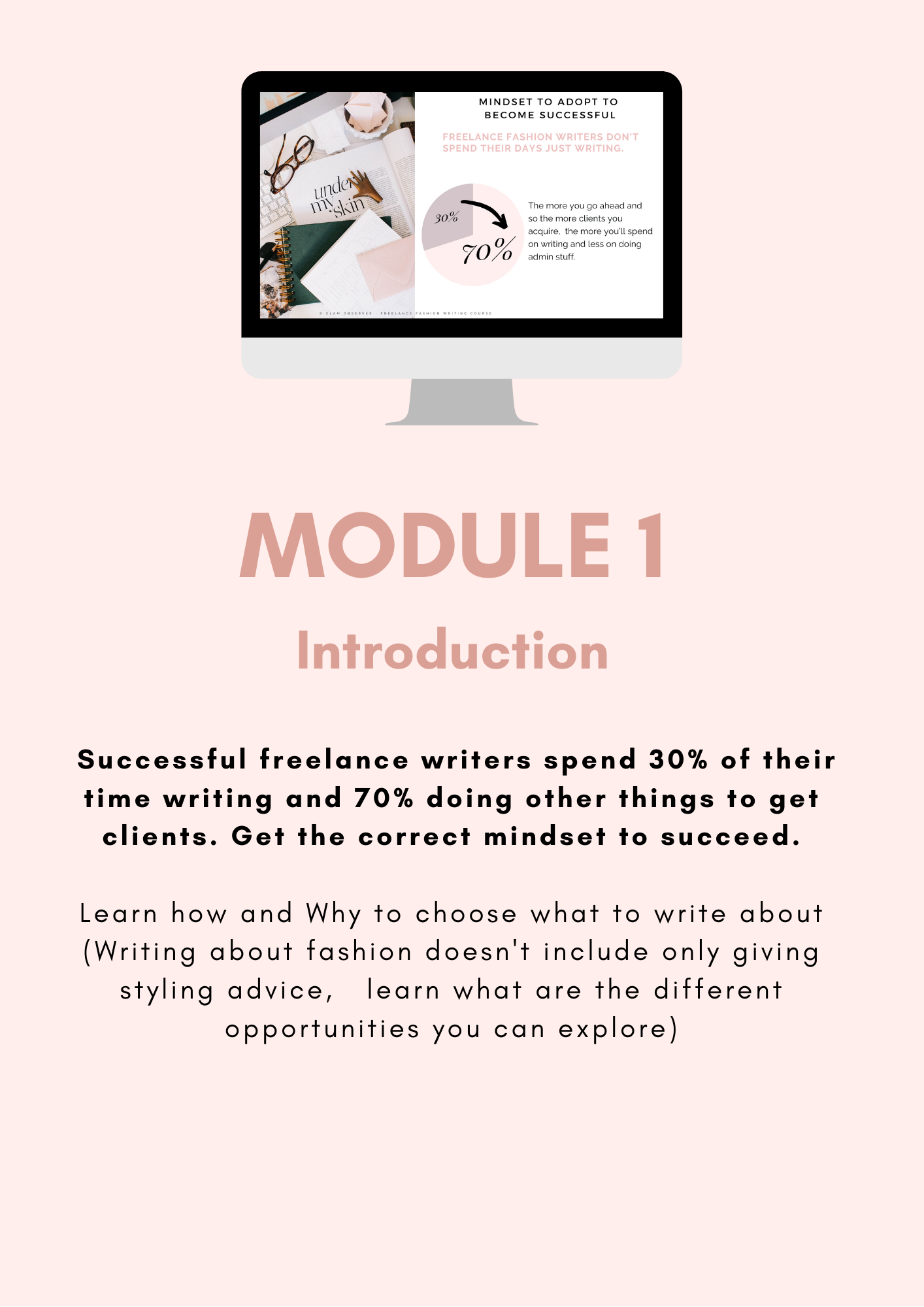 MODULE 1: Introduction
✔️The Mindset to adopt to Succeed
✔️Things to consider to choose your niche (within the niche)
✔️How and Why to Decide what to Write About (PS you can mix it up if you do it the right way)
✍🏼How to improve your writing skills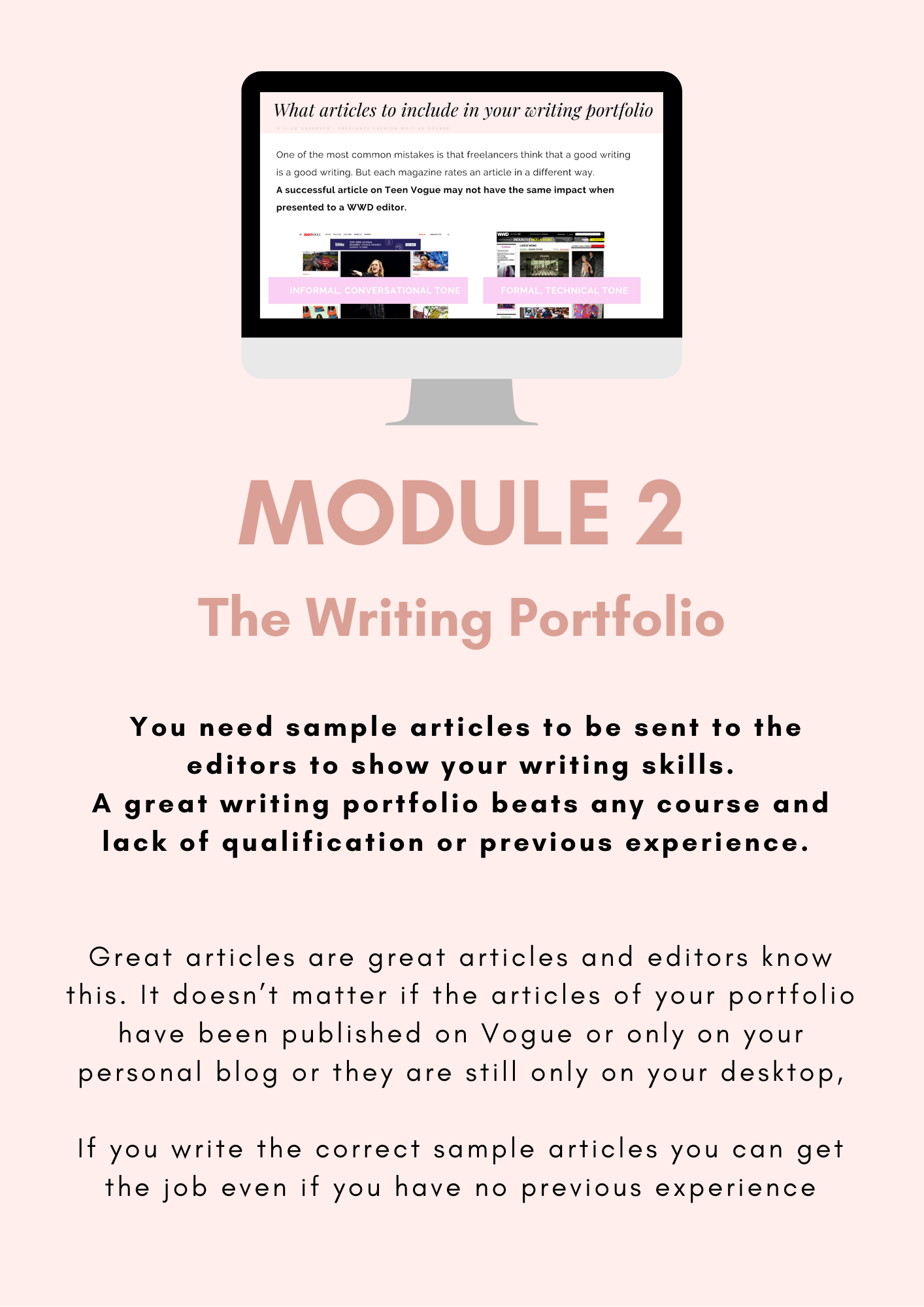 MODULE 2: The Writing Portfolio
✔️Why you need a writing portfolio
✔️What articles to include in your writing portfolio to make sure the editor knows you can write for that specific publication
📋Exercise on how to analyze the fashion publications so you know how to fit your sample articles
✔️How to write your [first] sample articles
✔️How to collect your sample articles and create your writing portfolio in form of a Website, PDF, Google Docs
✔️The best platforms to build your fashion writing portfolio
✔️How to share with publications your writing portfolio and sample articles via PDF and Google Docs
📎DOWNLOAD the writing portfolio PDF template (create it in Microsoft Word with the template and save it as PDF in just 5 minutes!)
✔️2 Free Platforms where you have to publish your articles to reach more clients
✔️The one thing that will make you immediately more professional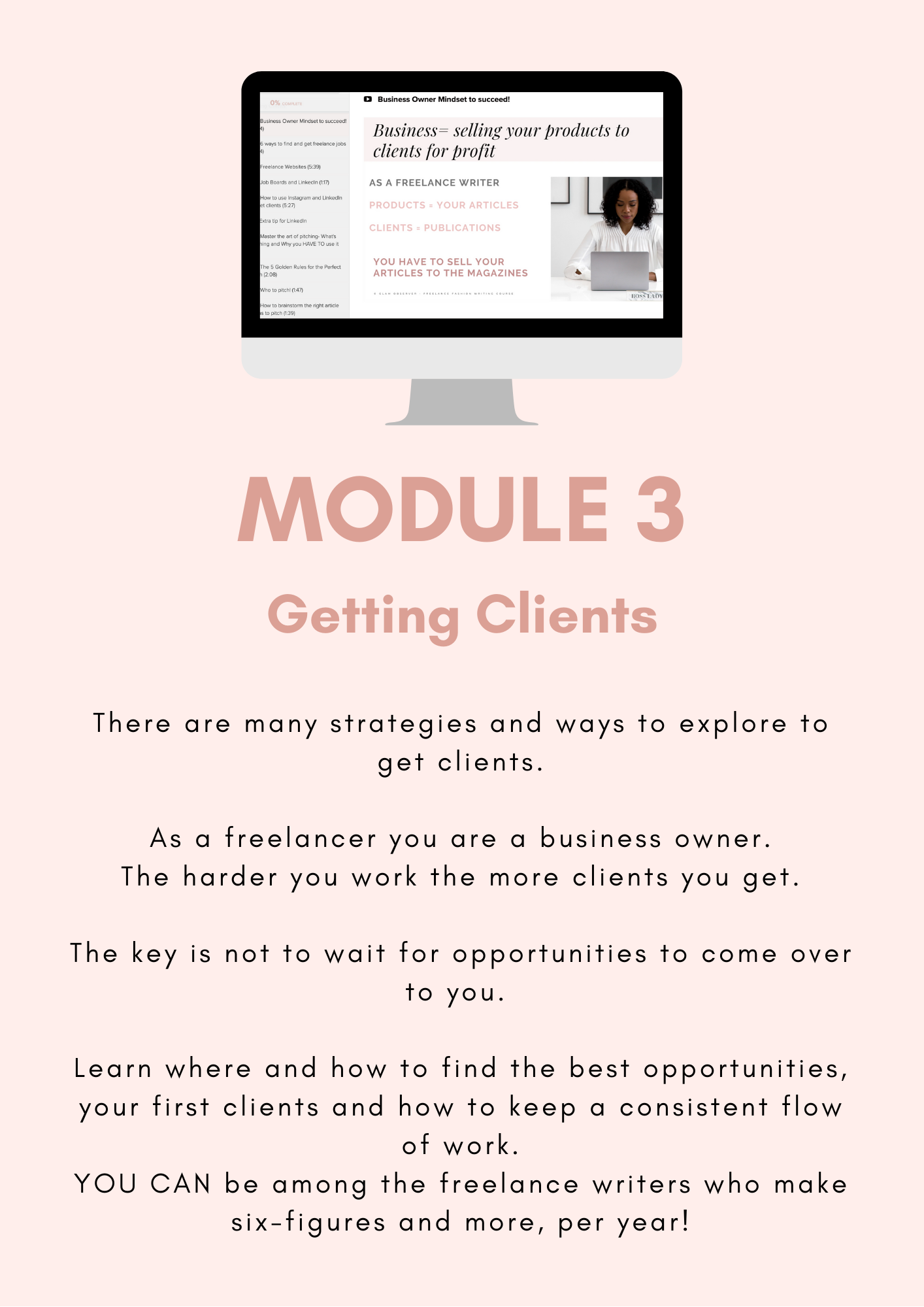 MODULE 3: Getting Clients
✔️Business Owner Mindset to Succeed
✔️6 ways to find and get freelance jobs
✔️The Freelance Websites to check
✔️How to find freelance writing jobs on job boards and LinkedIn
✔️How to use and what to post on Instagram and LinkedIn to attract clients and network with editors
✨EXTRA TIP: the message to send on LinkedIn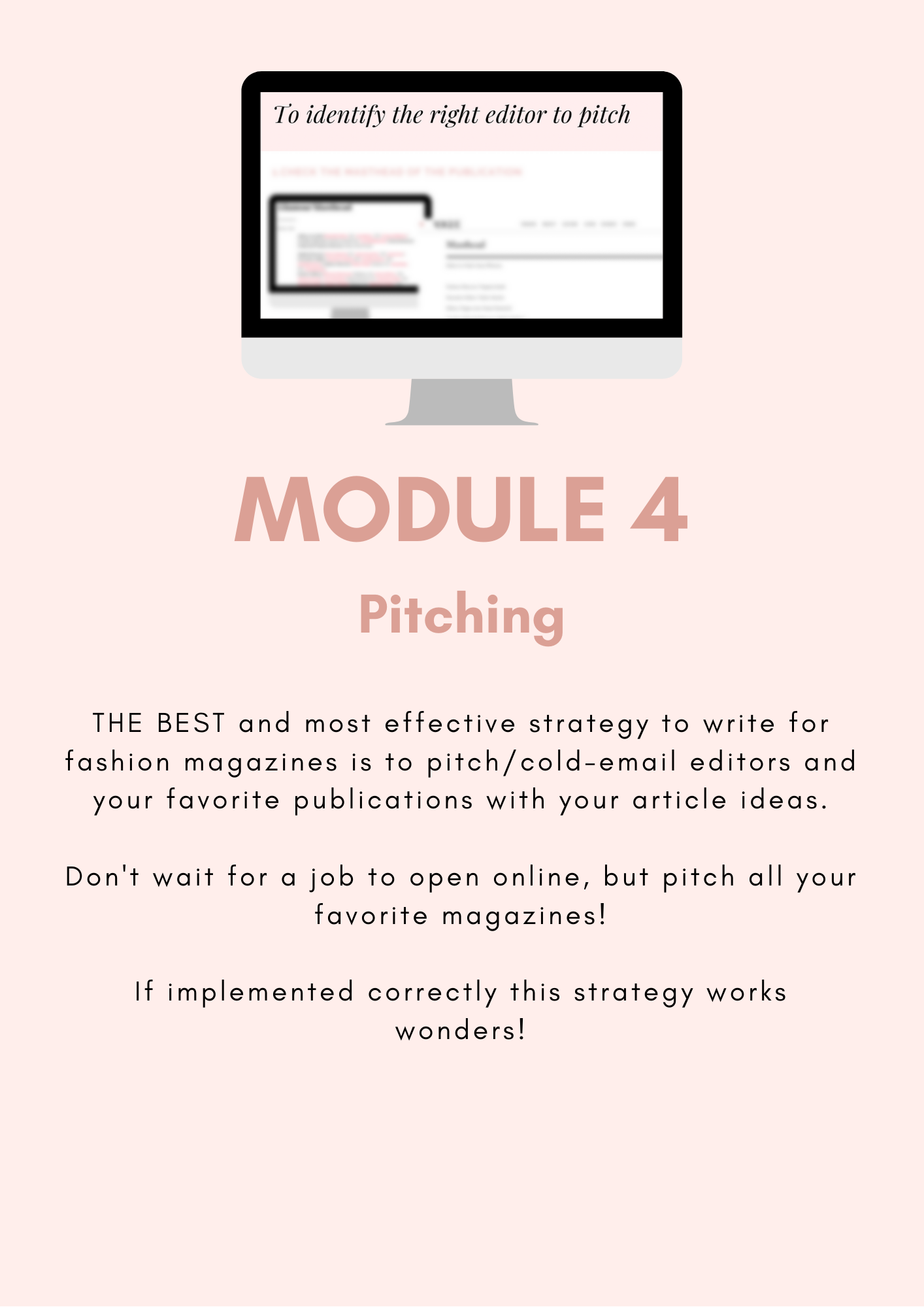 MODULE 4: Pitching
✅Master the art of pitching
✨The 5 Golden Rules for the Perfect Pitch
🚀Who to pitch and how to find who are the editors
✅How to brainstorm the right article ideas to make sure editors want to publish them
✅Sheet to keep track of your pitching
✅How to write your pitch email
📋PITCH EMAIL TEMPLATE to download. Send your pitch emails in 5 minutes!
📌Why and how to follow-up
✅The follow up timeline
📎Follow-up email templates: First and Second Follow up
👉🏻What if they don't respond to your pitch?
MODULE 5: Setting your Rates
✔️How to set your freelance writing rates
✔️How to calculate and set your rates per hour
✔️How to calculate and set your rates per words
✔️How to ask for the publication budget
✔️When to talk about rates with publications and editors
✔️Freelance Fashion Writing Industry Rates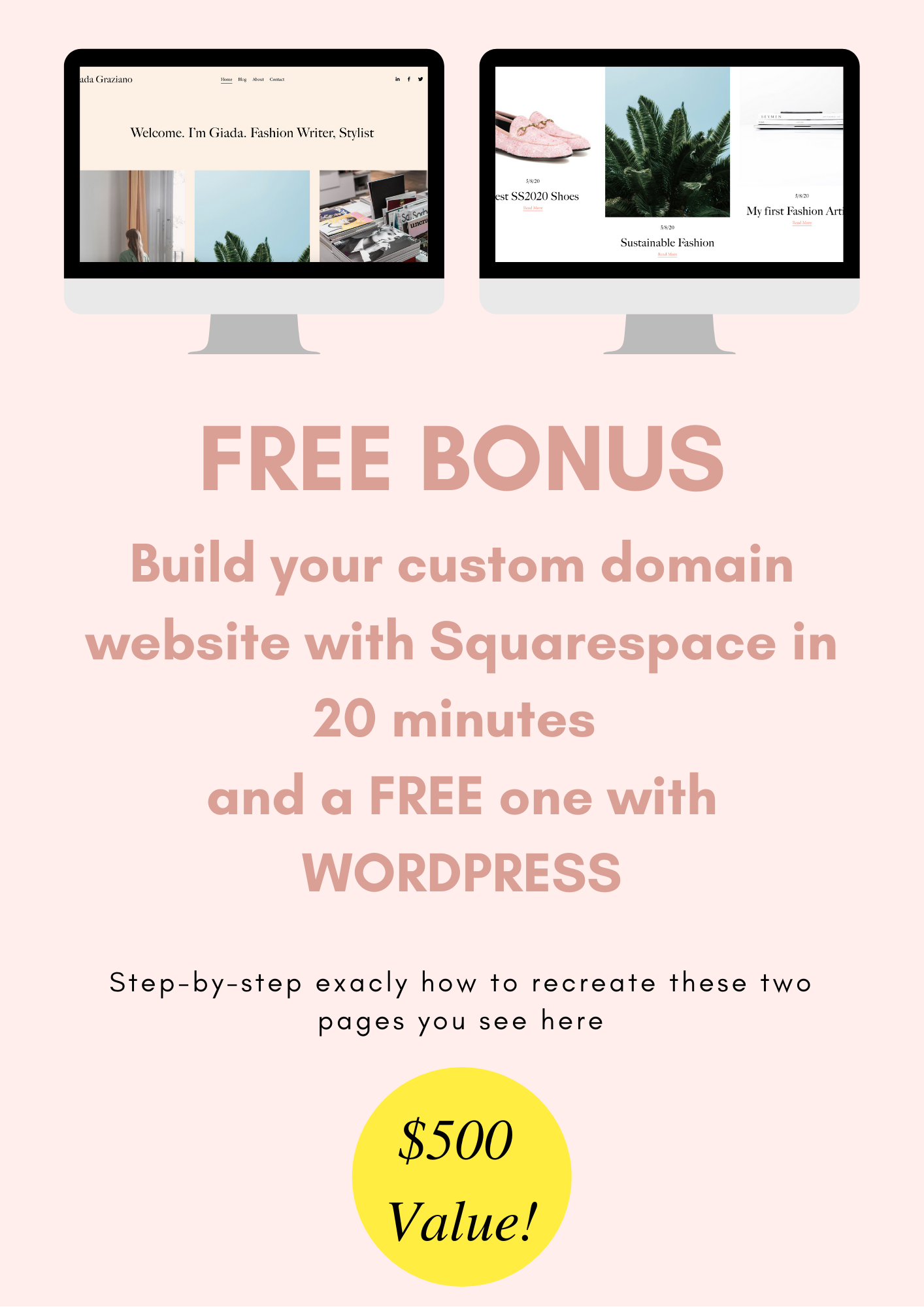 FREE BONUS Build you Fashion Website with Squarespace in 20 minutes
Set up a custom domain website using Squarespace.
How to create a portfolio page and a blog
How to publish your articles
How to get a domain
How to set your About, Contact and Home Pages
Start a FREE website with Wordpress
WEBINAR EXCLUSIVE BONUS EXPIRING SOON!
BONUSES INCLUDED FOR FREE IN THE COURSE:
Registering for this course will not only give you access to all the modules, with video lessons, exercises, tests, but you'll also get these exclusive bonuses for free. Including...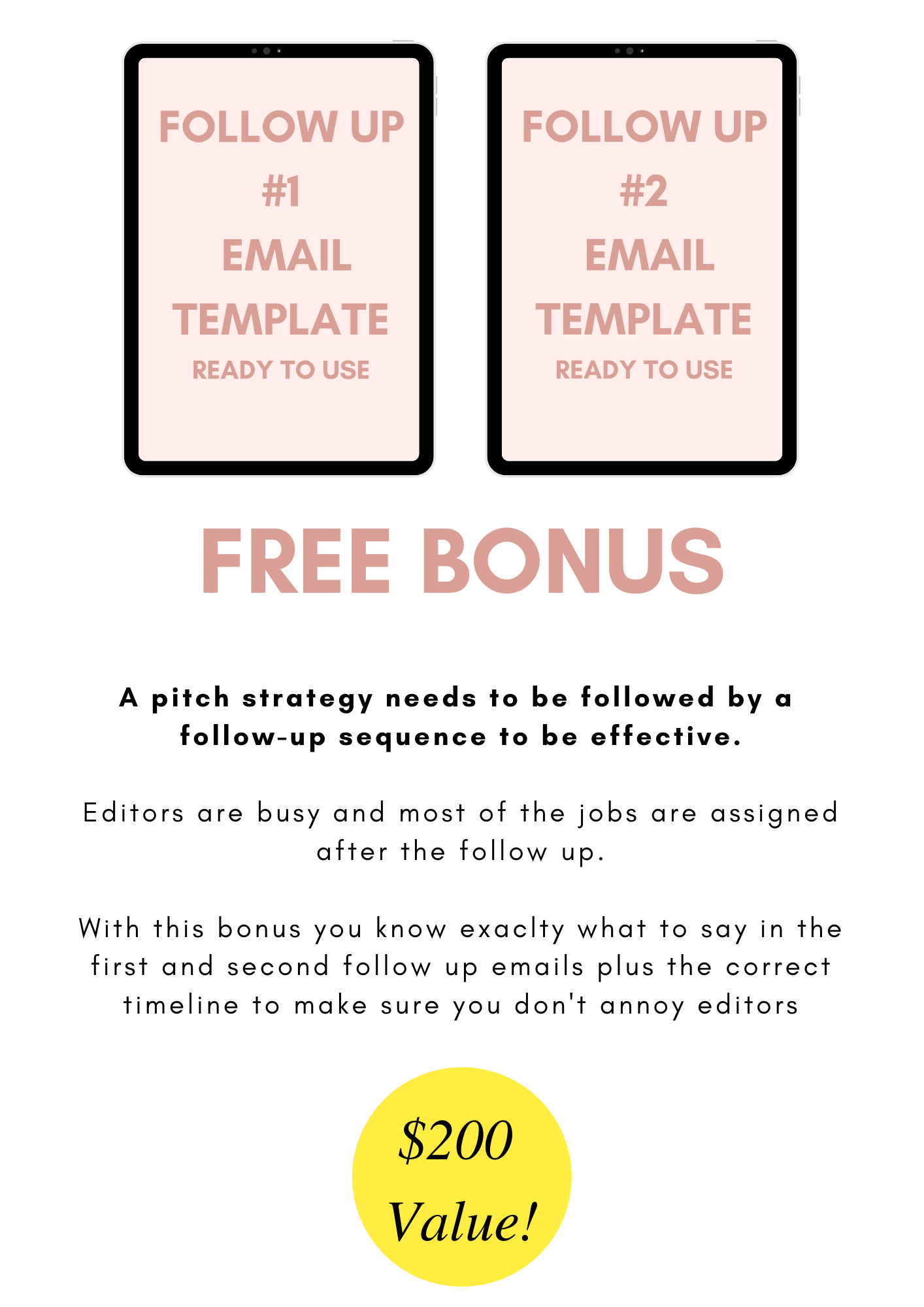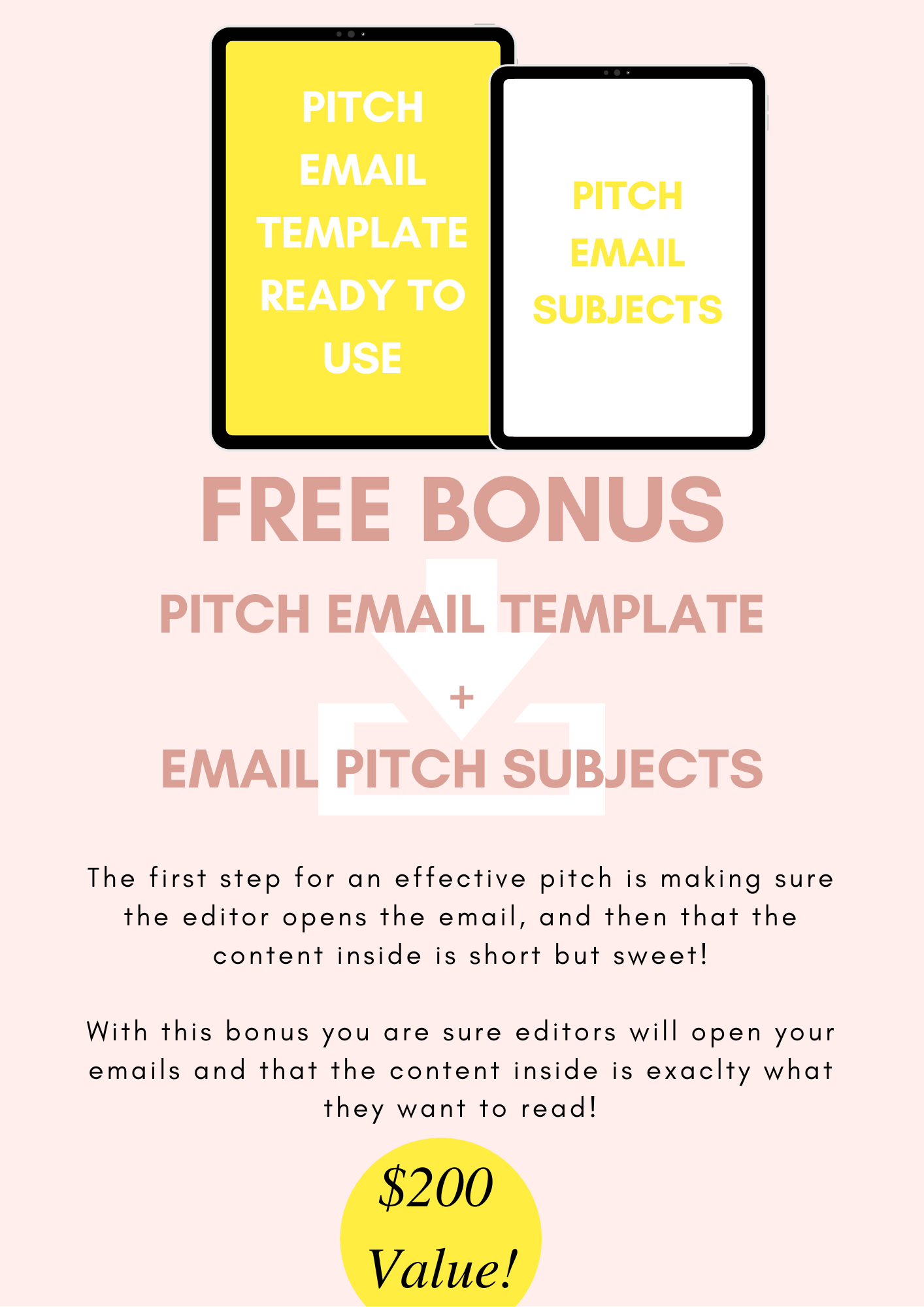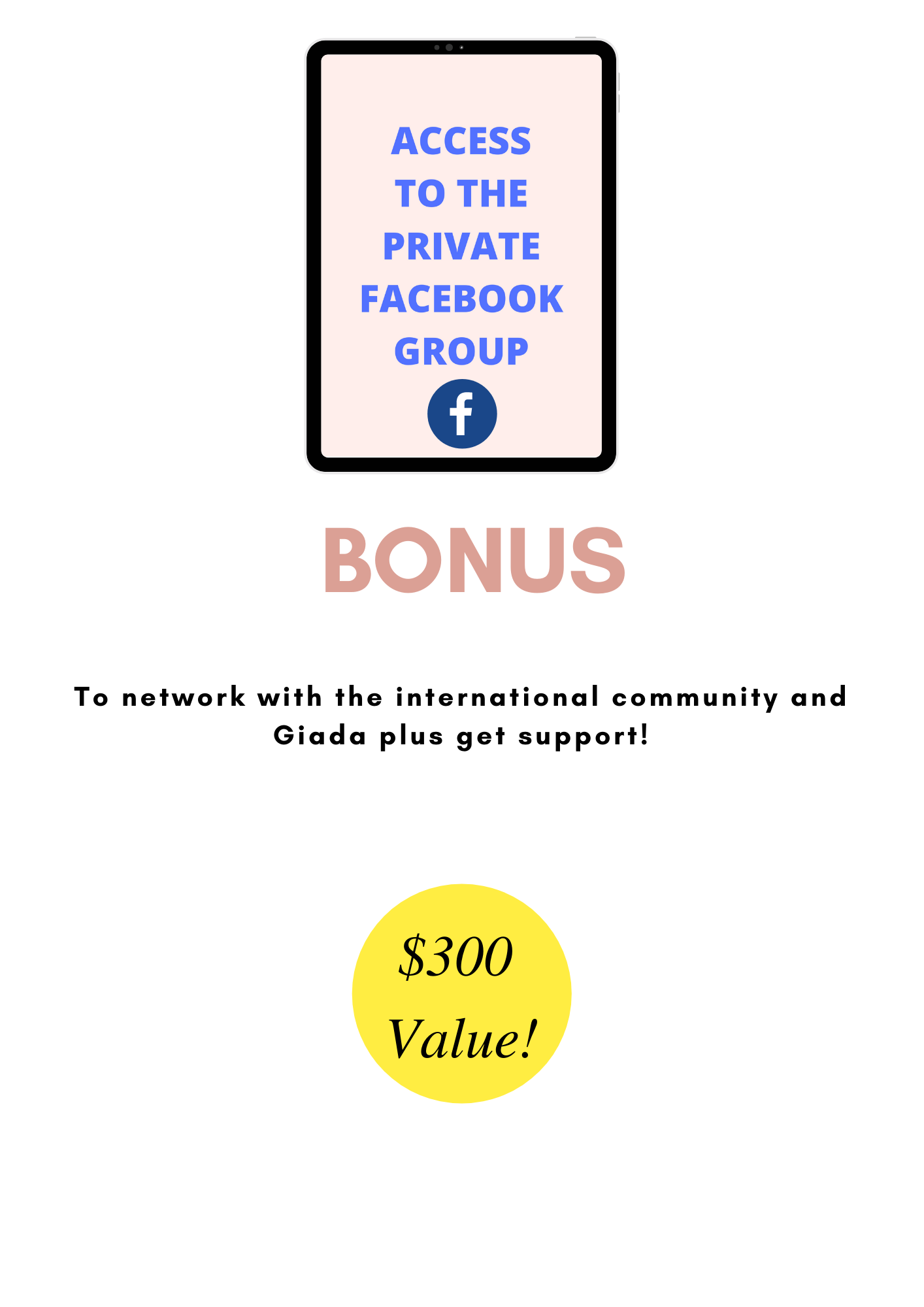 Each column has its own individual text fields.
The Total Value of the Course + All the Bonuses is $1392
But you get everything for just $197!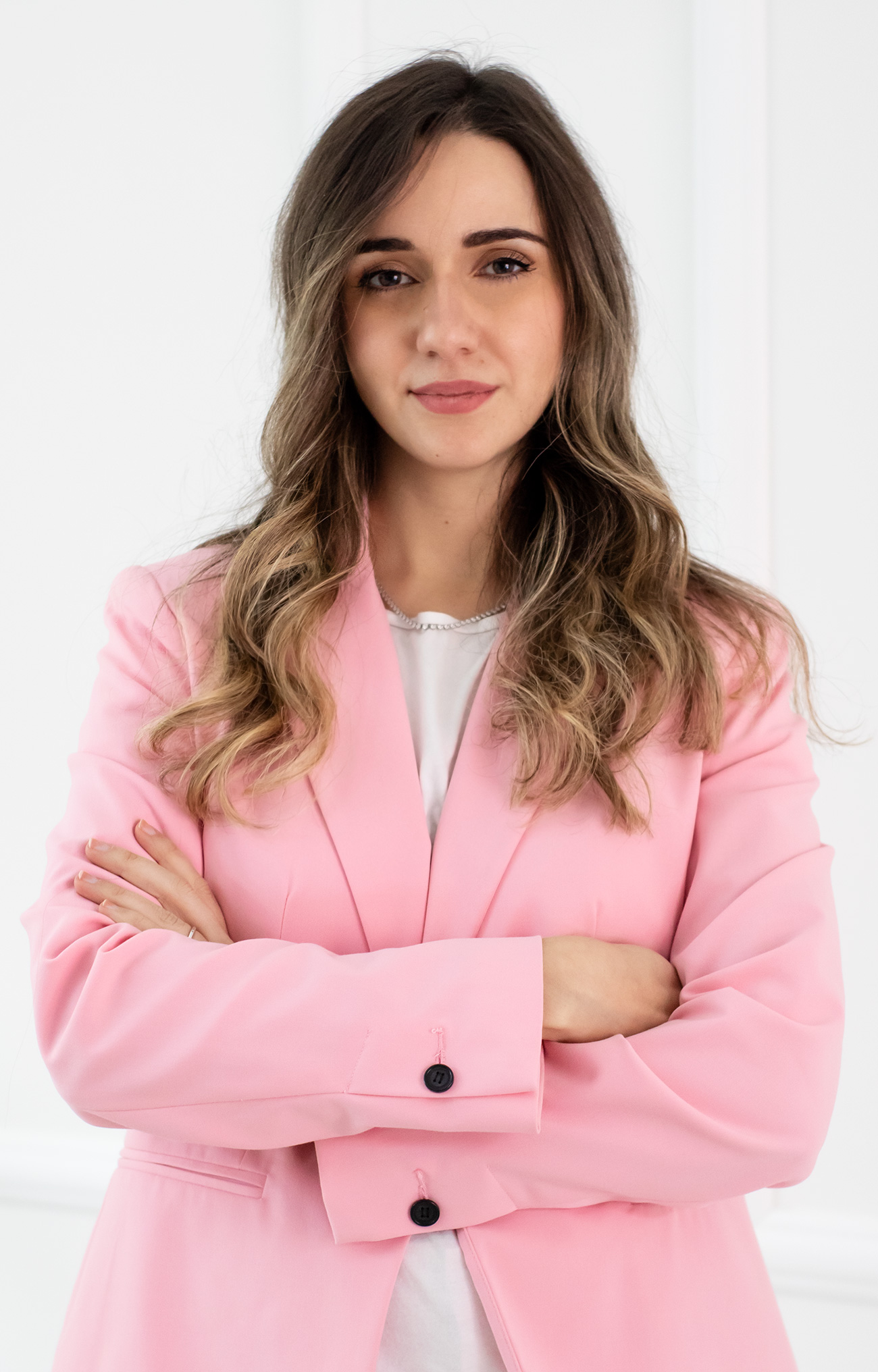 Hi! I'm Giada!
I'll be your teacher in this course!
I'm the founder and CEO of the #1 top rated fashion career platform GLAM OBSERVER and Forbes 30 under 30 in the education category for the things I teach about getting a job in fashion.
I live in Milan now and I'm an entrepreneur, fashion career expert, author, podcaster and consultant.
Before starting Glam Observer, I studied Luxury and Fashion Management in Milan, attended courses of the FIT and Parsons and worked in fashion e-commerce for Yoox Net A Porter, Kering and Alexander McQueen.
Over the last 5 years I've helped many fashion enthusiasts to get their dream job in fashion at companies such as Dior, Valentino, Prada...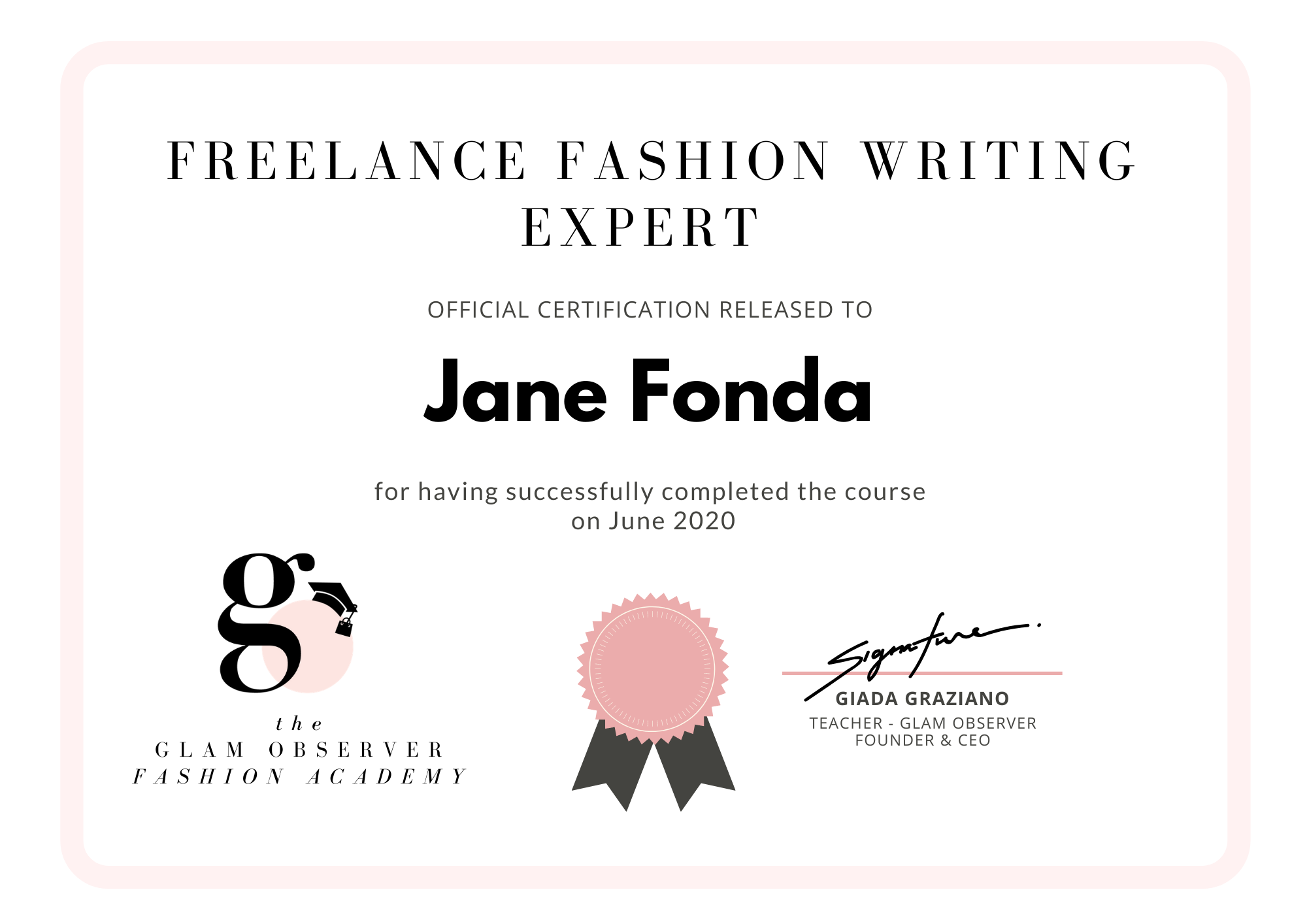 When you complete the course you'll receive a certification to add to your CV and LinkedIn profile to show your expertise.
Frequently Asked Questions
When does the course start and finish?
It is a completely self-paced online course - you decide when you start and when you finish.
How long do I have access to the course?
How does lifetime access sound? After enrolling, you have unlimited access to this course for as long as you like - across any and all devices you own. You can come back to each lesson anytime you want!
I have never published an article. Is this course good for me?
Absolutely. A great article is a great article and any editor knows this! Take this course and I'll teach you what to do to get a writing job even if you have never published an article before!
I want to write beauty articles. Is the course good for me as well?
YES! The practice in this course are applicable whether you want to write about fashion, lifestyle, beauty, sustainability, marketing, business...
What's the difference between this course and Break into the fashion industry?
They are two completely different programs and you don't need one to take the other ;) This course is focused on giving you everything you need to become a freelance fashion writer, so it's specialized in this career and it's more like "you can be your own boss" . This course is in fact only for those who want to pursue a career in fashion writing. Break into the fashion industry is instead a system to get a job in fashion at companies for careers such as PR, buyer, editor (not freelance), stylist, merchandiser.. any kind of career in fashion because Break into the fashion industry gives unconventional strategies to apply for jobs to work at fashion companies.
Have any other questions? Email [email protected]